Your FAQ's about Paintless Dent Removal
Answered Here!
Updated November 22, 2019
* FAQ *
How can you repair a dent without filling and painting?
Using specifically designed tools for paintless dent removal and skills acquired over time, we use leverage to "push" the dent out from the inside of the panel. We very carefully massage the metal back to its original shape. We may also use glue to "pull" the dent in some areas where access is not available.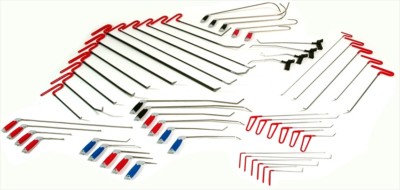 The paint is chipped where the dent is. Can you fix it?
We may be able to improve the dent itself but we do not fill the chipped paint. Many times the dent is the worst part of what you see. After the dent is repaired you may purchase touch up paint from your local auto dealership and touch it up after the dent is removed.
How big of a dent can you remove using paintless dent removal?
Depending on size, shape, depth paintless dent technicians can remove larger dents depending on skill level. At times a very small dent can be more difficult than a dent the size of a softball. Some larger dents may just "pop out" as easily as they went in (very rarely though). As you may see from our photo gallery , we have assembled some of the most common dents that may be removed using Vancouver Paintless Dent Repair & Removal.
Is the repair permanent or will it go back to its shape after a while?
Good question and the answer is simple. Yes! Paintless dent removal is a permanent dent repair.
How much will it cost to repair my dent?
As with any service done, the cost of paintless dent removal will vary upon the severity of the dent. Vancouver P.D.R. will gladly provide free estimates. In most instances we can quote with a firm price. More severe dents may be quoted by the hour.
Can you repair hail damage?
Yes we can! Most automobile insurance companies prefer the use of paintless dent repair rather then fill and paint method of repair.
How long will the repair take?
Depending on severity, most repairs can be done while you wait! Others may take a few hours. Vancouver Paintless Dent Repair offers mobile service to your home. We may do the repair at your place of employment depending on work space availability.

Do you offer mobile service?
Yes we do! For your convenience Vancouver Paintless Dent Repair offers mobile service. Enjoy your daily activity at your home while we do the repairs on your vehicle. We may also repair your vehicle at your work provided there is space and electricity available. Understandably, a small convenience fee applies to cover our travel time and fuel prices.

Where are you located?

The location for Vancouver Paintless Dent Repair & Removal is in Richmond.
Unit 150-12211 Vulcan Way, Richmond, B.C. V6V 1J7
Please ensure to call before coming to the location.
Here is a video explaining paintless dent repair or removal courtesy of DentTime in San Diego, California.
Do you have any more FAQ's or frequently asked questions
about paintless dent removal?

Contact us at 778-861-0570
and let us answer those questions personally!
Return from our FAQ page to our Photo Gallery page!